Click the little button below to check out this awesome mamma and her Top 2 Tuesdays! But while you are here... check out mine!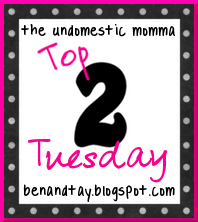 Top 2 Random things about me:
1. My 11 year old little sister is adopted.
I know this isn't technically about me, but it has to do with me and you will see the point to putting this on here in one second. My parents adopted Chloe right from the hospital. It is one of the neatest adoption stories that I have heard and I love knowing that I am apart of it. For those of you who don't know the story, my mom and step-dad wanted to have a child together once they got married, since my older sister and I are not biologically his children. In my heart, and with all his actions, he is definitely a father to me. He means the world to me, just like my own dad means everything to me. He is a great guy and deserves to have his own children. When they were unsuccessful, an opportunity arose within our family for them to adopt. A family member of mine asked if they wanted to adopt their child that was not born yet. It was a great opportunity, considering my family member was young and not ready at that time to be a parent, but not willing to go any other route than adoption. I really look up to both Chloe's biological mother and father for what they did and also for giving me my amazing sister. So, longgggg long story short. Chloe is adopted, yes, BUT she is also related to me, is more of a "biological sister" to me than she will ever know and resembles my family and I's looks ALOT. All things considered though, I would have never thought that this little girl -------------->

Would look just like MY little girl...
... and turn into THIS gorgeous girl!!!
2. I love acting like a kid.
I love taking walks, playing at the park, swimming, waterslides, amusement parks, picnics, coloring, chasing Lidia around on my hands and knees, riding bikes, etc. I guess that makes Lidia one lucky gal to have a mom like that!
I also love the adult versions of those things. Riding motorcycles, pool parties with my ladies, picnics with my man, (??? hasn't happened but could be fun!) and swimming in the lake while boating with all my friends. But coloring ehhhh I have no excuse for that!
Life is good.