TGIF everyone! It's New Friend Friday, Friday Follow, AND Five Question Friday!

Wow, busy day! If you are visiting from any of these, welcome! If you are just here because you stalk our blog and think we rock... welcome as well! But you should click on the buttons below and check out these fun ways to meet people and join us!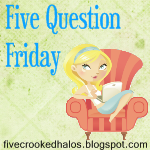 Now, onto Five Question Friday. Hope you enjoy!
1. Have you ever had a celeb sighting? Yes, I've seen Ashton Kutcher and Demi Moore at Aura (a LAME-O club) a few years back. Also, Jesse Metcalf (the guy from Desperate Housewives right??? YUMMM:) at Crush and my favorite Lauren Conrad at Crush. Have I met any of them.... Ummm.... NO! But I creeped them from afar and thought I was pretty cool!
2. What temperature do you keep your house? 68? I believe. I'm not quite sure but last night was nice enough to have the padio door open and windows open!!! My type of weather for sure!!!
3. Do you notice dust at other peoples homes? Nope! I don't even notice the dust at my own home... until it gets bad. Does this mean I'm drrrrty?!?
4. What's the worst job you ever had? Speaking of Aura in my first question, I forgot that I worked there for... ONE NIGHT! HAHAHA yeah it sucked that bad. I was a "waitress" when it first opened and it wasn't for me. I TOTALLY forgot about this and pretty sure noone even knows this except my mom. Remember, mom?!
5. What is your most sentimental possession? My childhood blanket that my mom just found a few weeks ago, torn apart, and puke green. LOVE IT.
Again, Happy Friday everyone and I hope you enjoy your weekend! We are MOVING into our new home starting this afternoon, so wish us luck!!!!
And just because she's so cute...
Lidia says, "Just clicky to vote for me!!!"
(Sidenote: The first picture is after I took a blowdryer to her hair this morning. Yeahhhh, never again! It has been sticking straight up like that all day!)