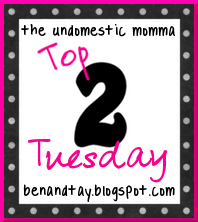 Top 2 things you can't live without!
So go check her out!
My top 2 things I can't live without.
(Besides Lidia, Matt, family, God, cell phone, etc...)
Hairbrush and Hairties!

I seriously brush my hair 34523 times a day. Even if it's in a ponytail. Weird? Definitely. It's like an obsession! I feel like my hair looks better brushed, (Who doesn't) so I constantly do it! Plus, I've been pregnant for the last 8 years, it seems, and I don't always feel the prettiest, so whatever helps, right?? I know this is technically two things, but they go together, so my black hairties are a must also. I have to have the same kind and they are always black. If my hair isn't in a ponytail, then I always have a hairtie around my wrist, just in case. Or maybe it's comfort. Either way, I can't last a "normal" day without these!
Next:
Starbucks White Chocolate Mocha
and/or Iced Tea! (Unsweetened pleeeease!)
I have to have one or both of these each day. End of story.