Happy Good Friday everyone! Isn't it crazy that some people don't even know what today, Good Friday, is???? It is the most important, unselfish, miraculous day there is... The day that Jesus died for us! I think we get so caught up in picking out the perfect Easter dress for our kiddos, spending time with our families, and eating chocolate, that we don't stop to think about what we are actually celebrating. So, at some point today, or at every minute today, we should think about HIM and be thankful for what he did for us and our families!
Today is also Friday Follow, New Friend Friday, Five Question Friday, and WHAT?! Featured blogger Friday?! Who me??? Yes, that's right. I am the featured blogger today over at
Hormonal Imbalances
so go check me out, see my answers to a few questions that I'm sure you didn't know about me, and stay awhile and see how awesome she is also!! Oh yeah, and see that cute little blog button on the right hand side?? I created that myself yesterday! I know, I know. A lot of people do it but I'm no computer whiz so I'm very proud of it! Anyway, grab my button if you'd like and let me know if you have one so I can grab yours!! Again, Happy Friday everyone! I hope everyone has a great Easter weekend!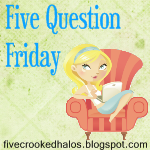 1. Do you sing out loud in the car when you're driving? Daily. I sing to Lidia when she's in the car with me, and she totally sings back. When she's not in the car, I still rock out and crank my music up because it's really the only alone time I get during the day!
2. What would you never be caught doing? Never say Never.
3. Will you go #2 in a public restroom? Yes. Can I just leave it at that? Am I disgusting?
4. Have you ever broken a bone? Proud to say no!! ...and knocking on wood as we speak!
5. Do you prefer cooking or baking? Cooking! I'm always up to learn new recipes, so if you have any, send them my way! My baking comes from a box and sometimes I can mess even a box recipe up!