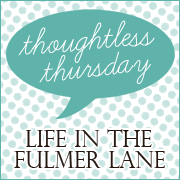 To join in the fun, link-up with Katie for Thoughtless Thursday!
What other group of people fit so well into Thoughtless Thursday but the cast of Jersey Shore?! I'm pretty sure not one of them have a normal thought in their brains but for one reason or another, I love that show! I love the drama, big hair, fights, and did I mention drama?! I look forward to watching it with my hubby every Thursday night after the kiddos are in bed. Call us crazy, but we love it!
Another trainwreck of a show but I'm still totally addicted! Yes, they all have their baggage, but I actually like most of the girls this season (so far) except Jenelle. I want to slap a sense of reality into that girl. As moms we talk about needing our mommy time, but this girl is taking it to the extreme. Going out several times a week, sleeping in and letting her mom take her baby to daycare in the morning while she is still in bed? Really? Oh how I would love to sleep in after a night out, or sleep in after staying up way past my mommy bedtime watching a movie with my hubby, but you better believe that I'm up bright and early in the morning with my leading ladies. In fact, I'm probably up at 3am, 6am, and 8am if you catch my drift. Some people just don't get it! I do feel sorry that her mom doesn't let her dress her son though...(insert sarcasm here) Ha, that is her only concern and it makes me laugh.
Newborn picturess of both girls in the same outfit... Can you tell who is who?
And.. a little laughter for your Thursday!
MALE OR FEMALE?
FREEZER BAGS:
They are male, because they hold everything in, but you can see right through them.
PHOTOCOPIERS:
These are female, because once turned off; it takes a while to warm them up again. They are an effective reproductive device if the right buttons are pushed, but can also wreak havoc if you push the wrong Buttons.
TIRES:
Tires are male, because they go bald easily and are often over inflated
HOT AIR BALLOONS:
Also a male object, because to get them to go anywhere, you have to light a fire under their butt.
WEB PAGES:
Female, because they're constantly being looked at and frequently getting hit on.
TRAINS:
Definitely male, because they always use the same old lines for picking up people.
HAMMERS:
Male, because in the last 5000 years, they've hardly changed at all, and are occasionally handy to have around.
THE REMOTE CONTROL: (my favorite)
Female. Ha! You probably thought it would be male, but consider this: It easily gives a man pleasure, he'd be lost without it, and while he doesn't always know which buttons to push, he just keeps trying.
I got this email from a friend and wanted to share! Anyone else love reading funny emails like this??? Maybe doing a link-up to share some funny emails might be a good idea?? I've been thinking of starting my own link-up, or pairing up with someone to do one, so if you're interested in starting some sort of link-up, let me know!

Have a Happy Thoughtless Thursday!
and remember... 100 followers = giveaway! Tell your friends! :)