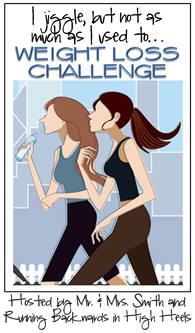 This week was great!
I lost 3 lbs!
Which is a weight loss percentage of 1.88%.
My friend Sarah and I have a challenge between the two of us to see who can lose the most weight by the end of May.
(We have a wedding to be in this fall and need to look smokin'! Plus, bikinni season HELLO!)
She has been a huge help to me this week.
We check in daily on what we've ate, exercised, share recipes, eating ideas, etc.
What I've done this week:
Cut out pop.
I was (who am I kdding, I still am!) a huge Diet Mt. Dew lover.
And I'm going almost a week straight without a diet pop!
I've replaced pop with tons of water and Crystal Light Peach Tea.
I have to go to the bathroom about ten times a day now,
But it's worth it!
My meals have mainly consisted of chicken, salad, rice, Protein shakes, yogurt, 100 calorie snack packs, etc. I've done really well in the eating department!
Well,
Besides the popcorn my hubby so amazingly made for me last night during American Idol
as "a nice gesture."
It sure was nice but I made him and Lidia eat most of it!
Exercise has been lacking though.
We've gone on a few walks with the girls, played outside alot, and been semi-active.
But as far as the gym?
I still haven't gone.
That is my goal for this week!
Can't wait to see how well everyone else has done!!