So I'm trying to eat healthy.
two babies in two years?
Not the epitomy of a perfect body.
So, have I been doing good?
Hmm...
Let's see.
I went to our cafe at work today and got a salad, a diet mt. dew, and these...
Fail.
Why do they have to put them right in front of your face at the check-out?
I think its a conspiracy to make diets fail.
Boo.
Anyway...
Speaking of dieting,
after I posted this original post I saw this challenge...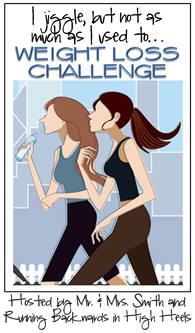 And I'm going to join!!
Sign up
HERE
if you want to join too!
I think it will be great and very motivational!
So here's what I'll be doing....
Cut out pop starting tomorrow since I already had a diet mt. dew today.... whoops!

I signed up for Weight Watchers a few weeks ago and haven't stuck to it. I'm going to get back on board with that and counting my calories.

We have a membership at the gym and I NEVER go. I have no reason, other than being lazy because they have a daycare at the gym that I can take the babes too. So my goal at first will be to go twice a week to a spin class, and increase my gym attendance after I reach that goal. PLUS, taking the babes on a walk a few times a week since the weather is warm won't hurt either.
I'm 5'7, so my target weight range is: 118.1 - 159.6 lbs.
My current weight is...
haha yeah right, not telling that
BUT
it's in between the target weight range, so that's good!
My goal (for now) is 135-140 and we will go from there to see how much more I want to lose!
I'm so excited about this!
I'm a huge American Idol fan.
Huge.
Like I've convinced Lidia to like it by getting up and dancing with her during the songs so she will let me watch it.
That's how huge :)
And I luuuurrrvee Paul.
Pia has an amazing voice but boring to watch perfom.
Lauren is so dannnng cute and a great singer
and Scotty just makes my heart smile.
But last night,
my favorite was...
Haley.
I got "goose pimples" from her last night.
Anyone else giggle when JLO says that?
Anyway,
She rocked it.
like woah.
Like, I might be rooting for her and Paul from now on.
Lidia and Carly love going outside.
Yesterday after work,we played with chalk,
and in Carly's case,
tried to eat the chalk.
We crawled around, ran around, played with a pink ball (Lidia's new obsession), played in cars,
and swang on the swingset.
It was awesome.
Look at my big girl on a big swing!!!
Did I mention I love Spring??