Sooooo I'm linking up with Lindsey this weekend for her home tour!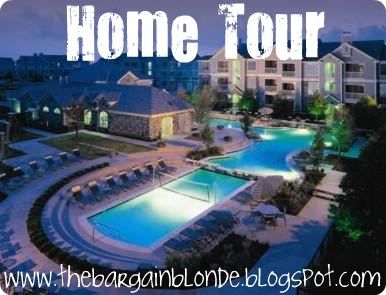 This week is all about living rooms.
My living room?
Plain. Boring. and full of kids toys...
BUT
I told her I would join, so here I am!
Oh yea,
and I didn't pick up for you guys either, so don't hate on our messy home!
:)
The above pic is the view from our tv.
The couch is to the left, the dining room and kitchen to the right, and as you can see...
the hallway to our glorious bedrooms to the north.
An old recliner is in the middle of the room but it's SO comfy so it stays!
There are pics of the kiddos and of our wedding surrounding the fireplace,
and that's about all I got for that view :)
I told you, boring.

Our living room and dining room are open, so I thought I'd include both.
1. The dining room table always has an assortment of random things on top of it.
Is this the same at every house?
Right now it includes; a hair dryer, some bills, and of course an umbrella... because Lidia is obsessed.
2. There's also another entrance to the kitchen from this view,
plus some more toys and the ducky bathtub, because it's a necessity in the dining room, yes?
3. Behind the kitchen table is the sliding glass doors to our patio and backyard.
3. HI CARLY! (she was eating breakfast and staring at me weird because I was taking random pics)
4. A Kirby vaccuum in the middle of the floor, because Kirby's are the best. Seriously.
5. And Dora in the Jumperoo.
and lastly the view of the couch.
I've always wanted a sectional, and hubby made that happen when we moved in.
I LOVE IT!
What I don't love?
Bailey's hair on the brown couch... I vaccum several times a week!
Besides that we have our flat screen, some more pictures, tons of toys, and usually two little ones roaming around.

I'm obviously not creative, have no decorating sense, etc. so I want to see YOUR living rooms!
Link-up with Lindsey and show them off!