I'm linking up with my girls Allie and Kay for Wedding Bliss Wednesday!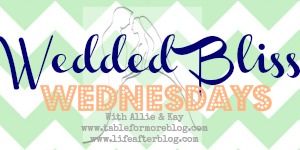 Allie and Kay mentioned that they're doing this link-up because their husbands get pushed to the back burner in blogworld, (and sometimes real life too) so they wanted to dedicate a post each week to the men that make our wonderful lives possible, and also hopefully grow our relationships...I couldn't agree more! I know that this blog doesn't have blog posts dedicated to my husband, and that he's not talked about very often, but this should not be confused with the way I feel about him. I love him to the moon. The reason for the lack of talk about him is because I orignally started this blog as a baby book for the girls and it still is. I just want them to have a place to go when they are older to see what it was like growing up, how much I love them, etc. But I also want them to know how much I love their Papa too, so I am now dedicating (some) posts to him. I also decided to link-up because our 2nd wedding anniversary is on October 23rd... perfect timing! Anyway, the first week of the link-up is dedicated to answering the following questions. I decided to have my hubby answer a few as well. Why? Because he's hilarious....

Introduce us to your husband!
(What's his name? How old? What does he look like?)
My Answer: Matt or Matthew. 26. Awesome.
What is your husband's favorite thing to do?
My answer:
I think his favorite thing to do is work, watch football, read, and make people laugh.
His answer:
My favorite thing to do is usually whatever I'm doing... which kind of sounds weird but....
When I'm working, that's my favorite thing to do.
When I'm with the kids, that's my favorite thing to do. (WHAT ABOUT MOI?!?! :)
When I'm relaxing watching a movie, that's my favorite thing at that time.
Golfing is my favorite thing to do.
Pretty much my life is 100% awesome.


What does your husband do Monday-Friday?
His answer: (HAHAHA!)
(So pretty much he owns/runs an insurance business Monday-Friday, and he loves his family too :)
What was the FIRST thing you noticed about your husband when you met?
(I asked him what he noticed about me, and what he thought I noticed about him first)
(Remember, we met way back in elementary school)
My answer:
He was always shy around me, so I definitely noticed that. Most importantly, I noticed the way he looked at me differently then everyone else. He will say he first noticed my blonde hair, smile or something inappropriate.
His answer:
You probably noticed my acne first. I noticed your (Insert something inappropriate here)
(Told ya!)
What is your husband's BEST quality? (I also asked him what MY best quality is)
My answer: His best quality is his hard working attitude and his legs. He will say my best quality is again, something inappropriate, I'm sure.
His answer: My best quality is how much I love to work, work, work. Your best quality is family value. (Awww!)
What is your husband's biggest pet peeve?
My answer: His biggest pet peeve is EVERYTHING! He's pretty OCD. (I still love you though!)
His answer: Laziness

How does your husband feel about blogging?
My answer: He loves it. No joke. He scolds me if I don't blog at least once a week.

What is something you do/can do that makes your husband feel loved?
My answer: Plain and simple. Say it and show it more.